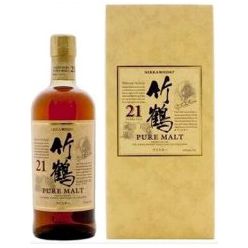 Nikka 竹鶴 21年 Taketsuru 21 Year Old Pure Malt Whisky
Nikka Whisky Distilling Company is a Japanese producer founded by Masataka Taketsuru, who is regarded as the father of Japanese whisky.
Taketsuru was the son of a sake brewer, and after studying chemistry at university he trained at several Scottish distilleries before returning to Japan in 1920 with his Scottish wife, Rita. After working for the company that would become Suntory and making the first Japanese whisky, he struck out on his own, setting up the Yoichi distillery and the Nikka parent company.
Nikka produces a range of blended whiskies and several single malts from single malts from the Yoichi and Miyagikyo distilleries. The Taketsuru Pure Malt (a blended malt) is one of the distillery's most famous products, along with the From The Barrel blend, and a Grain Whisky.
Alc. 43%
700ml
竹鶴是以該公司的創始人「竹鶴政孝」名字的「竹鶴」作為商品名稱,以紀念其對威士忌的熱忱及貢獻
竹鶴政孝是日本威士忌之父
「竹鶴」是用余市蒸餾所及宮城峽蒸餾所長期熟成的麥芽威士忌原酒調配而成
備受讚譽/殊榮的威士忌(2010年世界WAWA世界最佳混合麥芽威士忌),現已停產

香氣:柔和,果香濃郁的口感加上辛辣的丁香搭配櫻桃薄荷
口感:有著豐富的水果味、芳香加上宮城峽威士忌華麗而多變的滋味,提升了整支酒
 尾韻:如同柚般的尾韻令人回味無窮
酒精度: 43%
容量: 700ml
WE 95/100
The International Spirits Challenge awarded Double Gold and the International Spirits Challenge awarded Gold.
---
---
More from this collection